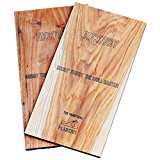 Grilling Planks Personalized Cedar Alder Pecan Hickory Handcrafted Grill Planks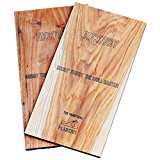 Product Description
If you enjoy grilling and creating scrumptious meals for your friends and family, then this pack of TWO personalized grilling planks is perfect for you! Made from 100% handpicked organic hardwoods these wood grill planks are a MUST for any grill guru, and they add such incredible flavor to whatever dish is on the menu that day! We make our grilling planks 1/2″ thick so they can easily be used numerous times. Each plank measures 6 inches by 12 inches and sourced from sustainable forests.
For delicate foods such as Salmon and fish we recommend our pacific cedar planks. While for heartier meals such as chicken and beef try medium woods such as crisp cherry, sugar maple, or sweet pecan grilling planks. If you want to beef up the smokey flavor even more, try using Hickory, Texas Mesquite, or African Pearwood grilling planks.
Grill Hog Cedar BBQ Grill Scraper – Full Size

Product Description
Metal grill brushes and scrapers leave behind dangerous broken bristles. The Grill Hog cleans your grill efficiently and with no risk of metal shards or wires getting stuck in your food! First Use Instructions: 1. Preheat Grill – to start the grooving process, ensure your grill is hot (high heat allows the grooves to form quickly). 2. Slide Back And Forth On Grill – Using slow firm pressure, pass the Grill Hog front to back on the hot grates. 3. Repeat – align the previously formed grooves to the grates ensuring that only ONE good set of grooves forms. Once grooves have formed, high heat is no longer necessary. No maintenance. No metal wires. Made in the USA. Cedar grill cleaner.
Price: $19.99 Continue reading →
Universal Barbeque Grill Scraper, Martin Grill Gadget, No Harmful Bristles, 16″ Long Wooden Handle, BBQ Grill Grate Cleaner Tool Fits ANY Rack, Made in USA

Product Description
Martin Grill Gadget History