Grilling
Pizzacraft PizzaQue PC6500 Outdoor Pizza Oven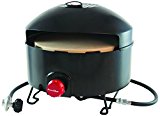 Product Description
Cook your own pizzas at home or on the go in only minutes. Your PizzaQue Outdoor Pizza Oven is lightweight, portable and safe on any surface. It's incredibly easy to use; simply hook it up to a propane tank, turn it on, let it pre-heat for 15 minutes, and you're ready to go. Your PizzaQue is perfect for tailgating, camping, or your regular family pizza night. Operates 25 hours on a 20-lb. propane tank — that's over 250 pizzas. You will never order delivery again when your PizzaQue Outdoor Pizza Oven makes homemade pizza fast, easy, and delicious!
Several accessories complement the PizzaQue Outdoor Pizza Oven. The Pizzacraft Pizza Oven Accessories/Folding Peel & Stone Brush – PC0217 helps you transfer your pizzas easily and keep your oven clean. The Pizzacraft Pizza Oven Leg Kit – PC6011 lifts your pizza oven to about 3.3 feet from the ground, which makes it easy to get pizzas in and out of your oven, while the Pizzacraft Pizza Oven Side Table – PC6026 provides a convenient and durable workspace right next to your oven.
There are two pizza oven covers which protect your oven in all conditions — the Pizzacraft Pizza Oven Protective Cover, Long – PC6019 and the Pizzacraft Pizza Oven Protective Cover – PC6012. And the Pizzacraft Pizza Oven Wood Pellet Smoker and Shovel – PC6021 adds smoky flavor to your pizza while it cooks.
100% SATISFACTION GUARANTEED. Pizzacraft is here to help if you have any concerns.
Price: $104.99
Revolutionary new way to cook pizza
Pre-heats and is ready for cooking in 15 minutes
Makes crisp oven-style pizzas in just 6 minutes
Propane-fueled and portable for tailgating, camping or any adventure
Made of steel and includes 14-inch cordierite pizza stone. Includes Adaptor Only for Use with 20 lb Propane Tank