Grilling
Grillbot Automatic Grill Cleaner, Red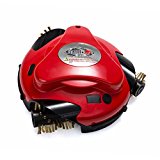 Product Description
Put an end to scrubbing, brushing and scraping a dirty grill!
The Automatic BBQ Grill Cleaning Robot tackles your charred, dirty grill, whether it's hot or cool.
– Simply press a button and a sophisticated computer directs the robot back and forth over your grill with three powerful motors.
– Three spinning brass wire brushes safely clean your grates without compromising the flavor of future meals.
– An auto timer shuts off the robot when the job is done (about 10-20 minutes) and the brushes pop off for cleaning in the dishwasher.
Also available in Black, Blue, and Orange.
Price: $89.95
PUSH-BUTTON START: Hands free operation. Can be used before or after using your Grill.
REPLACEABLE WIRE BRUSHES: Brushes pop right off for easy cleaning and are dishwasher safe.
RECHARGEABLE BATTERY: Rechargeable Lithium Ion Battery.
THREE STRONG ELECTRIC MOTORS: Grillbot is equipped with three high-power electric motors to clean every inch of your grill
LCD ALARM & TIMER: Set it and forget it. Grillbot is smart and will notify you when finished with either the 10 minute, 20 minute, or 30 minute cleaning cycle.
SMART BRAIN: Grillbot is driven by a sophisticated CPU chip that controls the movement, speed, and direction of the brushes.
GRILLBOT MAKES THE PERFECT GIFT: Fully automatic barbecue grill cleaning robot is the Perfect Gift for your friends and family members who love to barbecue!
DURABLE – 100% MONEY BACK GUARANTEE: 100% Rust Proof, dishwasher safe brushes, made with high heat resistant plastic and guaranteed to last! No Risk – 3 Year Warranty – 100% Money Back Guarantee!
LET GRILLBOT DO THE WORK- YOU HAVE THE FUN!